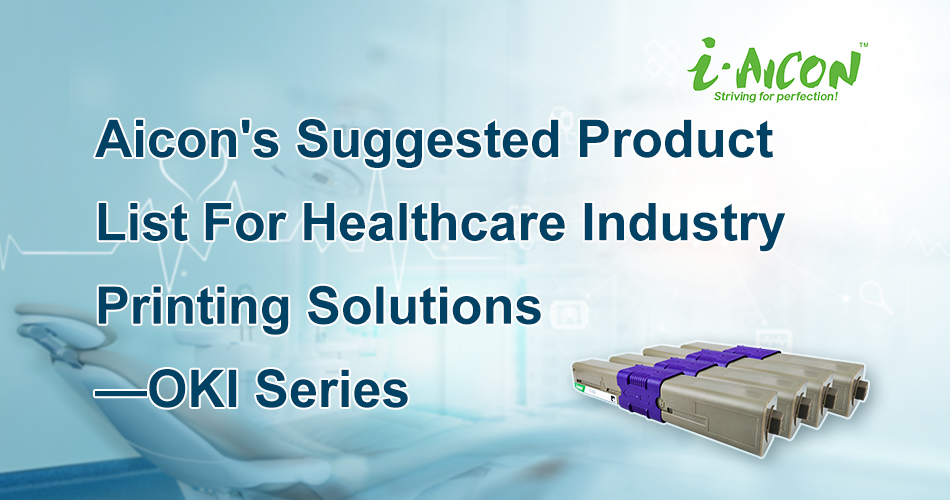 In face of the unexpected epidemic, iAICON served the printer consumables that are applied to the healthcare industry.
OKI is good at color LED printing technology. It's also famous for its excellent quality in medical report printouts, especially in ceramic white medical X-ray film and thick paper printing.
Here is the suggested list:
Model
Color
Page Yield
with 5% coverage
Regions
Printer Models
OB431
BK

7,000/10,000/12,000

WW

OKI
B431dn/MB461/MB471/MB491

OB432
BK

3,000/7,000/12,000

OKI
B412dn/B432dn/B512dn/MB492dn/MB472w/MB562dnw
OB431D
BK

30,000

OKI B411dn/431dn/MB461/471/491/B412/B432/B401/MB472dnw
/MB492dn/MB432dn/B512dn/MB562dnw/ ES4131/MB451 ES4132/ES4192MFP/ES5112/ES5162MFP
OB432D
BK

25,000

OC532
CMY

6,000

OKI C532/C542/MC563/MC573
BK

7,000

OC332
CMY

3,000

OKI C332dn/MC363
BK

3,500

OC710
CMY

10,500

OKI C710/711/711DM/711WT
BK

11,000

OC833
CMYK

10,000

OKI C833dn/C843dn/C823dn
OC834
CMYK

10,000

OKI C834dn/C844dn
iAICON Products:
·100% FULL PAGE YIELD
·STABILITY
·ODORLESS, NO DUST
·ENVIRONMENTAL FRIENDLY
To achieve high-quality output performance, each part of iAICON printer consumables has been strictly controlled. The OPC of iAICON printer consumables is superior wear resistance and electrical conductivity. The products we suggested can also ensure good output quality when printing on heavy paper while some compatible consumables that do not use imported toners may have a problem of poor imaging.
For distributors or clients who have more customization needs for printing solutions to fit local healthcare industry, please send email to promotion@iaicon.com for more information.
ABOUT AICON
Zhuhai Aicon is an export-oriented company with a history of 14 years, integrating R&D, production and sales of printing consumables. As a professional provider of printing consumables and office output solutions, we have more than 6000 models, covering toner cartridge, copier kit, inkjet cartridge,bulk ink and printer ribbon. We help people work better with natural, reliable and caring services.
---
Zhuhai Aicon Image Co., Ltd.
ADD:Room 701 Block A, Leaguer Building,Tsinghua Science Park, NO.101 College Rd. Tang jia wan,Zhuhai China Tel:+86-756-3369100 3369200 Fax:+86-756-3369300 E-mail:promotion@iaicon.com Website:http://www.iaicon.com
Follow us on: