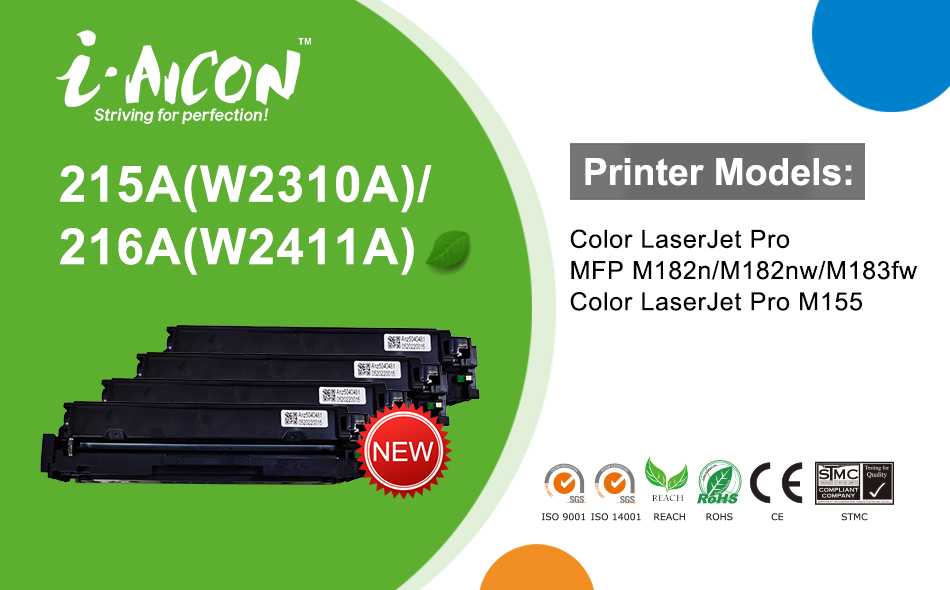 New compatible toner cartridges iAICON 215A(W2310A/W2311A/W2312A/W2313A)/ 216A(W2410A/W2411A/W2412AW/2413A) for use in HP Color LaserJet Pro MFP M182n/M182nw/M183fw, HP Color LaserJet Pro M155. The black toner gives an estimated capacity of 1,050 pages and the color toner cartridges are estimated to have 850 pages capacity under 5% coverage according to ISO standard print test method.
For details:
Model
Color
Page Yield
with 5% coverage
Regions
Printer Models
215A(W2310A)/
216A(W2410A)
BK

1,050

WW
HP Color LaserJet Pro MFP
M182n/M182nw/M183fw
Hp Color LaserJet Pro M155
215A(W2311A)/
216A(W2411A)
C

850

215A(W2312A)/
216A(W2412A)
Y

850

215A(W2313A)/
216A(W2413A)
M

850
iAICON Products:
·100% FULL PAGE YIELD
·STABILITY
·ODORLESS, NO DUST
·ENVIRONMENTAL FRIENDLY
For more information about iAICON printer consumables, please send emails to promotion@iaicon.com.
ABOUT AICON
Zhuhai Aicon is an export-oriented company with a history of 14 years, integrating R&D, production and sales of printing consumables. As a professional provider of printing consumables and office output solutions, we have more than 6000 models, covering toner cartridge, copier kit, inkjet cartridge,bulk ink and printer ribbon. We help people work better with natural, reliable and caring services.
---
Zhuhai Aicon Image Co., Ltd.
ADD:Room 701 Block A, Leaguer Building,Tsinghua Science Park, NO.101 College Rd. Tang jia wan,Zhuhai China
Tel:+86-756-3369100 3369200
Fax:+86-756-3369300
E-mail:promotion@iaicon.com
Website:http://www.iaicon.com
Follow us on: