News
FujiXerox CM225 & CP115 developer refilling instruction !
2017-05-15
Greetings,
As we know Fuji Xerox CM225 & CP115 are very popular in the SEA market, the printers are significantly
high cost-effective! However lately we have received many feedback from the customers that they are
encountering very bad experience with these printers.

Problem collected:
1) White spots appear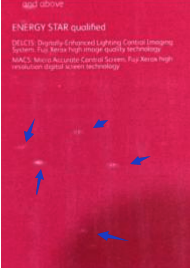 2) Printer stopped running and gave an alarm signal "092-651"
Please note these problems were merely by one reason: Your printer was facing the shortage of
necessary developer!
iAICON is providing very effective solution for you to solve the problems.
Please contact us freely if you interest, the detailed instructor is waiting for you.
Model

Color

Page Yield

Printer Models

C-CT202264

Black

2,000

FUJI Xerox DocuPrint CP225W/CP115W/CP116W/CM115W/CM225FW

C-CT202265

Cyan

1,400

C-CT202266

Magenta

1,400

C-CT202267

Yellow

1,400
---
Zhuhai Aicon Image Co., Ltd.
ADD:Room 516 Block A, Leaguer Building,Tsinghua Science Park, NO.101 College Rd. Tang jia
wan,zhuhai China
Tel:86-756-3369100 3369200
Fax:86-756-3369300
E-mail:promotion@iaicon.com
Website:http://www.iaicon.com
Follow us on:
You are Welcome scaning our QR Code