News
CE505/CF280 JUMBO UNI from Aicon!
2016-09-26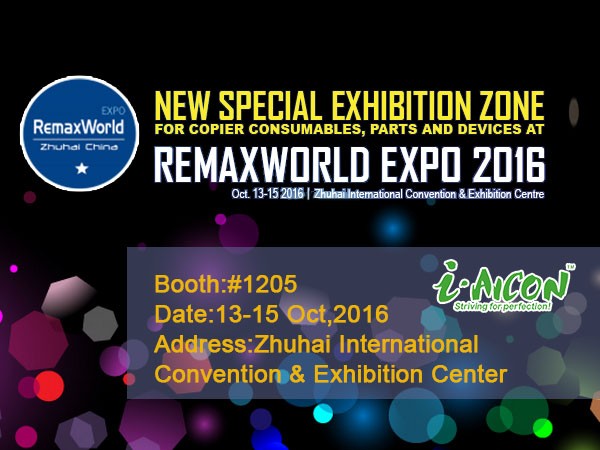 Invitation to Aicon Booth #1205 in Zhuhai
Dear Customers.
As the new RemaxWorld Expo 2016 is fast approaching, it is our honour to invite you to visit us at this event.
There are a lot of exciting new products that we have released this year and we invite you to have
an opportunity to see all of them first-hand.
Our information about this event is as follow:
Exhibition Name: RemaxWorld Expo 2016
Aicon Booth:#1205
Date: Oct 13-15,2016
Address:Zhuhai International Convention & Exhibition Center
We look forward to welcoming you at the RemaxWorld Expo 2016 in Zhuhai!
Here are some models for your priview:
Compatilbe for HP CE505/CF280 Jumbo Universal
Product Code
OEM Model
Color
Page yield
Chip
Printer
Remark
ATCH-CE505/CF280 Jumbo
CE505/CF280 JUMBO
Black
10000
With Chip

HP LaserJet Pro

2050/P2055/

P2055dn/P2055x/

400/M401a/d/n/

400 M425dn/dw

Compatible
If you are interested in it, please feel free to contact us!
---
Zhuhai Aicon Image Co., Ltd.
ADD:Room 516 Block A, Leaguer Building,Tsinghua Science Park, NO.101 College Rd. Tang jia
wan,zhuhai China
Tel:86-756-3369100 3369200
Fax:86-756-3369300
E-mail:promotion@iaicon.com
Website:http://www.iaicon.com
Follow us on:
You are Welcome scaning our QR Code