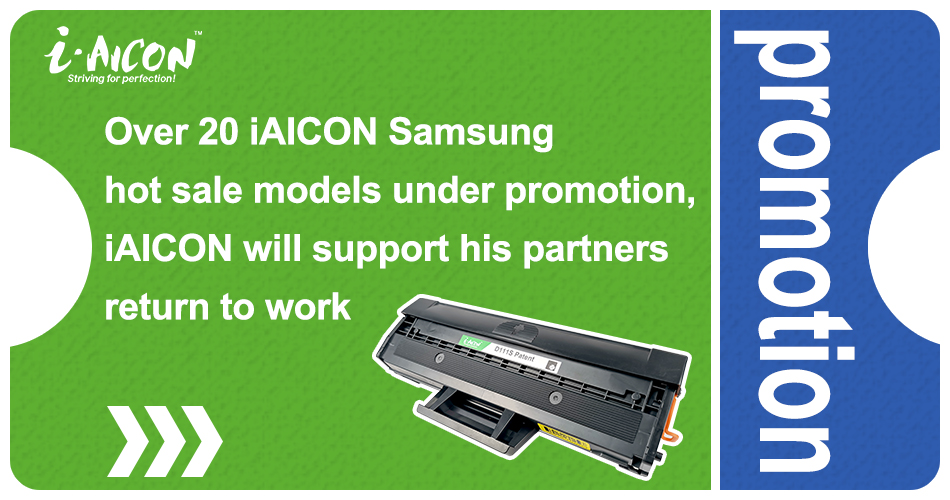 Under the outbreak of the coronavirus, the business conditions of many companies are not so optimistic. To help them enhance efficiency, provide supplies in affordable price but better quality is what iAICON always doing. So iAICON is launching promotion activities for certain hot sales models toner cartridges mainly for Samsung printer. Contact us for details.
The covid-19 has pressed the pause button to the global economy. Many countries forced to suspend work and school to protect people's lives and health. We believe the effective measures of government can protect our health. The businessman would pay more attention to the work efficiency and consider how to reduce the expenditures after the epidemic. Based on our investigation, the retail price of a compatible printing consumable and the OEM can be quite a big gap, some even reaches 10 times. For common consumers and various corporate groups, choosing the printing supply at a reasonable price can be the best way to improve the ROI. According to IDC, the growth rate of the laser products market has slowed down but not less than 30%. Besides, the supply of cities other than capital is particularly tight because of logistics closed during community quarantine. Therefore, iAICON select some hot-selling models at a good price.
Welcome to consult us. (Email Address:promotion@iaicon.com )
Here by we present parts of our list as follows:
Model
Color
Page Yield
with 5% coverage
Description
Printer Models
D101S
BK

1.5K

With Chip

ML2161/ML2156/ML2160W/ML2165W/
ML2168W/SCX3400/SCX3405/SCX3407
/SCX3400F/SCX3405F/SCX3400FW/
SCX3405W/SF760P

D111S
BK

1K

SAMSUNG M2020/2020W/2022W/2070W

D115S
BK

3K

SAMSUNG XPRESSSL-
M2620/2820/M2670/M2870

D105
BK

2.5K

SAMSUNG ML-1910/1911/2526/2581N/
SCX-4600/4601/4623FN/SF-651/651P

XE3140
BK

2.5K

XEROX 3140/3155/3160

Dell 1130/
1133/1135
BK

2.5K

Dell 1130/1130N/1133/1135N
Please feel free to contact us.
Follow us on: